Dead Ant Cam
I had an ant fetish for a while.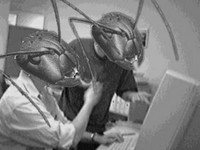 I wanted to make a movie that was a re-telling of the Faust story in an ant nest. I turned one scene into a Tivo essay (I decided at the last minute not to send it in, a decision I still regret. Everyone won.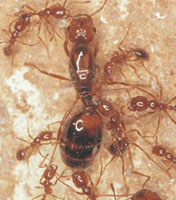 Execution of a fire ant (Solenopsis invicta) queen. Workers immobilize an unwanted queen by pulling on her legs and antennae, then they gradually bite and sting her to death.
Last year I had an ant farm, and I set up an antcam--just a little QuickCam pointing at the farm, taking a snapshot every 60 seconds and ftping it to my web server. Unfortunately, all but two of the ants died within 24 hours. So it became dead antcam. For the next two months it updated the image of the dead ants every 60 seconds. I think that might have been an internet first of some kind.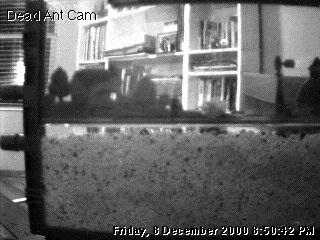 Posted by jjwiseman at March 14, 2002 09:38 AM