MCL Contribs from Terje
Terje Norderhaug has released two new versions of some MCL add-ons.
The Fred Package Indicator modifies Fred editors and the listener so that they display the buffer/listener package in a "placard". You can click on the placard and select a new package, as well.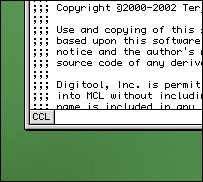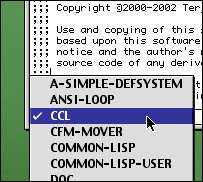 Appearance-MCL upgrades the MCL dialog items to have an appearance consistent with MacOS 8 and 9, using the Appearance Manager. (The effect is pretty subtle, and it made some built-in dialogs less usable when I tried it.)
Both packages are available from the In Progress site, along with about a half-dozen others.
Posted by jjwiseman at June 11, 2002 07:54 PM