CLX in OpenMCL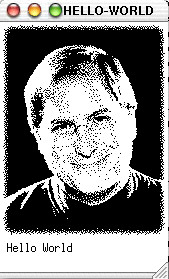 That's an X window opened by OpenMCL using my hack-and-slash port of CLX (running XDarwin and the OroborOSX window manager on my PowerBook).
It's kind of funny. There's no reason that CLX couldn't have been ported to work with MCL on a Mac at any point in the last 10 years, really, though not too many people were running an X server on a Mac, and the number of people running lisp applications on a Mac but wanting to put the display on a remote X machine was probably pretty low. Now, of course, you've got OpenMCL, which has no real GUI support yet, and XDarwin, and suddenly CLX starts to look useful.
I chose the CLOCC version of CLX (it's kind of unfortunate that there are so many versions) because it claimed to be moving the code toward ANSI, even though I dislike the CLOCC PORT package that it uses for sockets and multiprocessing support.
It will take a bit more work before this is ready for real use, but not too much.
Posted by jjwiseman at July 10, 2002 02:05 AM