One Year Later
One year ago I started lemonodor, courtesy of blogger and blogspot. You can still see some of the old pages with their ripoff a list apart look.
I was working on porting an I/NET application from ACL to CMUCL, and thought it would be a good idea to take notes on the process. And then I had the idea of doing it as a weblog. Actually I had a very specific goal in mind: to make contacts. Whatever that meant; mostly I think it was just to meet some interesting people.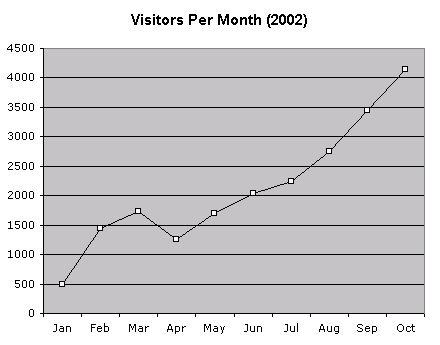 # of unique IPs/month visiting lemonodor, excluding rss and image hits
It's weird. 12 months. Of a weblog. Where's my book deal? Why exactly did I start? How did anyone find it? (I'm glad they did.) How did my life change so much in 12 months? How did I post over 250 items? And who posted those hundreds of comments? Should I just stop now? Maybe I should take guitar lessons instead of this lemonodor stuff. Nah, I think I can do both.
Predictions for the the next twelve lemony months:
More code.
One cat photo.
Posted by jjwiseman at November 11, 2002 01:32 AM