Symbolics Color Graphics System
Courtesy of Rainer Joswig (again), lemonodor presents scans of a Symbolics Color Graphics System (aka S-Graphics) brochure. Given my propensity for cluttering lemonodor with pretty pictures, it's probably not surprising that I have a soft spot in my heart for 3D graphics in Lisp. You can imagine my delight when Rainer mentioned he had these scans.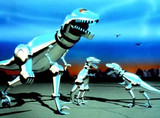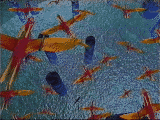 S-Graphics running on Symbolics hardware became nearly ubiquitous in broadcast and film animation in the late 80s and early 90s. Many of the short films in The Mind's Eye, a 1990 compilation of computer animation, were created on Symbolics systems. The video included a groundbreaking animation produced by the Symbolics Graphics Division, "Stanley and Stella in: Breaking the Ice". (Stanley and Stella was one of the first applications of Craig Reynolds' "boids" behavioral animation model.)



When Symbolics went bankrupt S-Graphics was acquired by Nichimen Corp., which renamed it N-Graphics and eventually turned it into a series of high-end graphics tools: N-World, then Mirai. As just one example of the popularity of the tools, the graphics in Super Mario 64 were created with N-World (which is built on ACL). Two years ago Izware took over development of the Nichimen graphics products.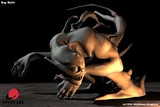 So that's a short summary of the long history of S-Graphics. In 1984, when this brochure was produced, I doubt anyone was expecting even descendents of the software to be around almost 20 years later.
Posted by jjwiseman at November 04, 2002 12:01 AM