Cannibal Flower
Last night I went to the Cannibal Flower "underground traveling art show & performance." Driving through a twisty maze of empty streets in an industrial section of LA to get there was almost as fun as actually being there, but apparently this month's wasn't one of the better ones.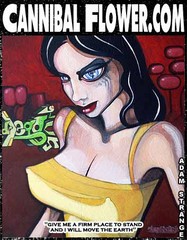 Some of the art wasn't so bad, but it was a lot of that LA porn-plus-religious-iconography stuff that is only superficially appealing. It was like being in an expanded version of the Soap Plant gallery.
Later I saw some great views of the city from the side of a hill in Highland Park. I think it was just an empty lot, a few hundred feet from an apartment complex, but I'll probably remember the setting forever. The howling coyotes were cool, too.
Posted by jjwiseman at March 30, 2003 03:04 PM