Ricky Jay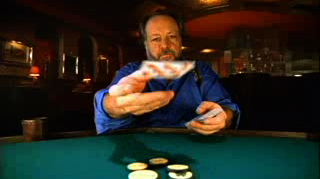 I was going to post something a couple months ago that I found on cardhouse, the archives of Ricky Jay's weekly radio show on KCRW, Jay's Journal, but I forgot (forgetfulness seems to be a recent theme here).
Nobody seems to know who Ricky Jay is.
He's been in a bunch of David Mamet films: House of Games, The Spanish Prisoner, Homicide, Heist. He was in an X-Files episode. He was even in Boogie Nights. In some circles (just a few people I know, maybe) he's famous for writing Cards as Weapons, a self-defense book that teaches one how to use ordinary playing cards as... weapons (he can impale watermelons with them).
From an interview with The Onion:
O: Have you ever used your magic powers for evil?
RJ: Can't think of a day when I haven't. [Laughs.]
I found out a friend of mine is his assistant. I got all excited, and she said "You really know who Ricky Jay is?"
Because of that I went and looked at his website, and found (the real focus of this post) this amazing profile of him from the New Yorker (PDF; here's an HTML version). It's long, and I'm no magician lover, but I really enjoyed it.
I haven't even mentioned the really interesting bits about Ricky Jay, or why you should read the article. I guess I'll just leave it up to you to decide whether it's worth taking a look at, but know this: he is not like any other magician.
I'm a little scared I will walk into Canter's some night around 3 or 4 am and see him.
Posted by jjwiseman at October 03, 2003 06:55 PM