NorthStar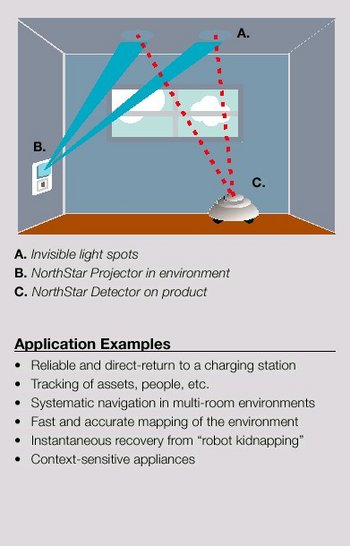 PC Magazine has an article on Evolution's new navigation & localization technology, NorthStar [also mentioned on engadget].
NorthStar allows a robot to determine its location within a few inches inside a room. It can also help a robot navigate from room to room, which is the scenario posited in the PC Mag article.
The company that provides the recognition software that helps AIBO see and find its charging station, Evolution Robotics, has a new hardware/software solution called the NorthStar technology that addresses this long-standing problem. It uses a small, inexpensive sensor (usually placed inside the commercial robot) and an infrared, encrypted light device that plugs into a wall outlet to help a robot not only navigate from room to room, but actually know which room it's in.

Announced two weeks ago and demonstrated for the first time at the RoboNexus conference in Satan Clara, CA, the NorthStar infrared light projects two beams onto a ceiling up to 20 feet high. The sensor (which is built into the top of the robot) sees the lights and is able to figure out position information with regard to location inside the room as well as directional information, so it knows where it's going. Sensors can recognize more than one pair of lights. Each infrared light-emitting device includes a knob to change its ID. The sensor uses the ID to identify which room it's in. It's essentially a global positioning system for indoors (although GPS cannot tell you the direction you're heading in).
Posted by jjwiseman at October 26, 2004 02:16 PM