Personal Power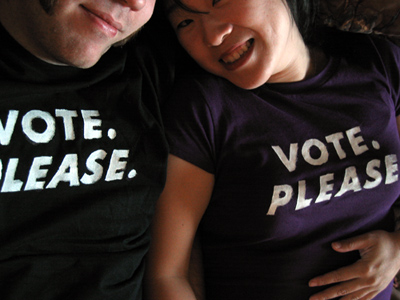 I admit that I feel a little ineffective as an individual voter living in a state that is almost certainly going to cast its 55 electoral votes for John Kerry whether I vote for him or not, and would do so even if I stayed home and played Katamari Damacy and avoided voting altogether (I didn't; I already voted).
So this weekend when Lori and I were in Las Vegas for a wedding, we took advantage of our presence in a swing state to wear some T-shirts that Lori made. The response was pretty good, even in a city known as a national focal point of escapism.
Peter Norvig on selecting a president: "If these two candidates were applying for the job of president, Bush would not get past the initial phone screen." The rest of it is pretty good, too.
Posted by jjwiseman at November 02, 2004 11:43 AM