Team Buffalo For Sale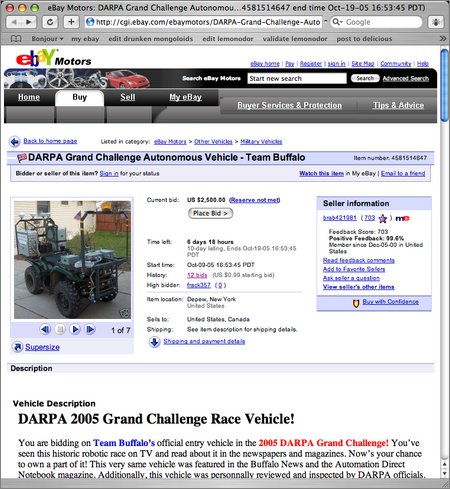 Team Buffalo seems to be the first Grand Challenge entrant to hit eBay this year:
With the 2005 DARPA Grand Challenge official over, and no chance for another Grand Challenge in the foreseeable future, Team Buffalo has reluctantly decided to auction their entry in the 2005 Grand Challenge through a listing on e-bay.

Although team members are disappointed that their vehicle was not one of the finalists, they are glad to see that at least three of their competitors were able to successfully navigate the rigorous desert course.

"By auctioning the vehicle, we're hoping to recoup at least some of the cost..." Team Leader Mark Schwartz was quoted as saying. He added, "It was a very difficult decision for us, but realistically speaking, it's the right thing for us to do right now."
You get the hardware, the software and 8 hours of training. Bidding is already at $2,500 with a week to go.
Posted by jjwiseman at October 12, 2005 10:23 PM