The Melvins and Scott Kelly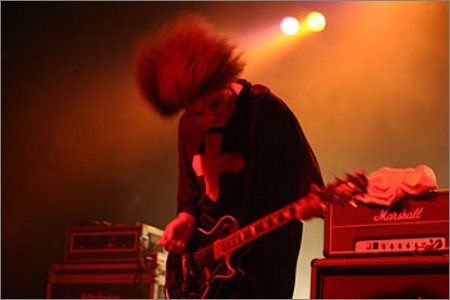 Wednesday night, neck and I saw The Melvins with Jello Biafra at the Henry Ford theater. I never listened to The Melvins and had no idea what they were like; neck said they were extremely heavy and we had to see them. He was right. Smoking.
And the pairing with Jello worked well. This was the first time I'd ever seen Jello Biafra, and I couldn't believe it when he broke into "California Über Alles"! And then "Chemical Warfare"! And then "Holiday in Cambodia"! It was like some unexpected weird closure to the memory of listening to Dead Kennedys LPs 20 years ago in wintery Illinois.
Thursday was a day of rest, then last night we went out again to see Scott Kelly (of Neurosis) do an excellent show at the Knitting Factory. Spare, intense music from a very humble guy. Scott gave us CombatMusicRadio.com shirts, so I guess I'll have to listen to him do his net radio thing there.
Posted by jjwiseman at November 19, 2005 11:22 PM