HMPassphrase Anti-spam Plugin for Movable Type
Part of my recent Movable Type upgrade experience was discovering that the plugin that I previously used to protect lemonodor from spam comments had been crippled during its transition from third-party plugin to official, integrated-with-Movable-Type plugin. Spamlookup's passphrase feature, the only thing that kept me from having to waste any time at all on the 40 or so spam comment posts per hour that lemonodor gets, had disappeared.
None of Spamlookup's other anti-spam techniques are effective for me. For the past few days I've had to at least scan every comment as it came in to make sure it wasn't spam. Even that small amount of effort doesn't scale to several hundred spams per day, and I was getting cranky.
So I wrote a Movable Type plugin to do what I want, and everything is now humming along perfectly. I'm no longer cranky!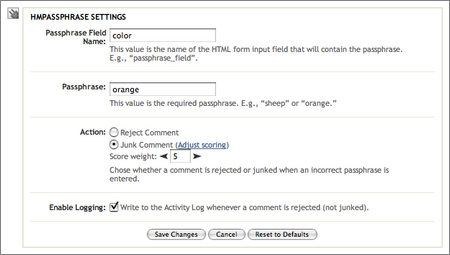 My plugin, HMPassphrase more or less replicates SpamLookup's old passphrase feature, though it offers the option to send comment submissions that don't have the passphrase to the new Movable Type Junk folder instead of just rejecting them completely (I think it's most useful to straight up reject them; Junk is just another thing you have to check manually).
I don't know Perl, but it only took a few hours to code using some existing plugins as a guide and with the #loafers always ready with expert advice.
Posted by jjwiseman at December 05, 2005 11:39 PM