Pasty Cannoli Girl
Sarah Vowell isn't as funny looking in real life.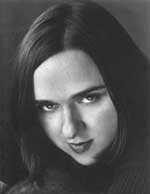 She and David Rakoff spoke at UCLA last night. I went because I enjoyed her book Take the Cannoli, and I left thinking that Rakoff was OK, but that I was definitely going to get her new book to help me work out my issues over the 2000 U.S. presidential election.
In the lame Q&A afterward, Sarah said that LA was her favorite place to read. I wonder why.
Posted by jjwiseman at September 29, 2002 11:42 AM