Blowing It Big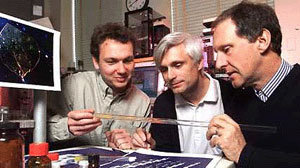 The guy on the left in the above photo is Jan Hendrik Schön, a 32 year-old solid state physics prodigy. Until just recently he was a researcher at Bell labs, where last year he published a paper on average every 8 days.
The current issue of Science has an article that quotes some of his colleagues:
"He rediscovered everything in condensed matter physics in the last 60 years in organic materials."
"It would be a monthly demonstration of how stupid you are. He was creating a new field every 2 months."
Then it all fell apart. Now he'll be remembered as the perpetrator of the "most extensive case of scientific misconduct in modern history."
I have to admit that part of the reason I find this story interesting is that Schön is my age, and I cannot help but narcissistically try to compare my life with my idea of what a once-wunderkind now-pariah's life is like, and wonder about what sorts of pressures motivated him to do what he did. Also, I'm drawn to failure of various kinds. Which is part of why I find Richard Gabriel fascinating--I think about some of the autobiographical parts of his Patterns of Software and the failures they describe regularly.
Posted by jjwiseman at October 08, 2002 11:35 PM