Refinement of Ideational Structures
Patrick Logan: "PLATO is one of the seven (or so) wonders of the software world." In 1988 I was a physics major at the University of Illinois Urbana/Champaign, and I was doing exercises and homework on touch-sensitive PLATO graphics terminals. I knew it was a cool system, but I didn't know just how cool.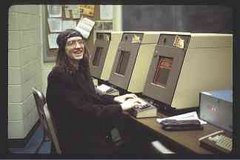 (not me)
Too bad I can't get any audio on this lecture, "Lessons Learned: Interacting with the PLATO System", by Brian Dear (founding director of eBay Design Labs--check out his weblog).
There may be some analogy here with lisp machines. I'll leave that to you to consider.
Posted by jjwiseman at July 17, 2003 09:14 AM