Trachtenburgs
The Trachtenburg Family Slideshow Players have been playing all over LA. "We take people's vintage slides that we purchase at estate and yard sales and turn them into pop rock exposes. A concept, that if applied correctly, will change the future of entertainment."
Even David Cross loves them.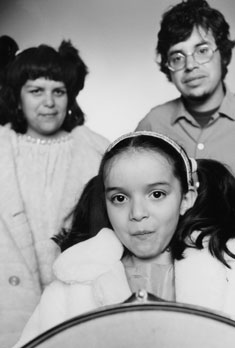 I saw them last night at Tangier, and it was a lot of fun. A six-part rock opera based on a set of internal McDonald's advertising strategy slides from the 70s ("Let's Not Have The Same Weight In 1978--Let's Have More") sounds pretty awful, but it isn't. And it's not like the music is that great, but as a show, and as a family, the Trachtenburgs are very entertaining. My favorite bit might have been when nine year-old Rachel, the drummer, called for a do over of a song that started out badly. I also like the fact that even though Rachel consistently got the most applause, and hooting and hollering, after about 15 minutes into the show the only expression she ever had was one that went like "I'm bored now."
In spite of myself I really liked the guy that opened for them, Lem Jay. He really played the shit out of his organ, and his songs were sappy and funny.
Posted by jjwiseman at July 10, 2003 08:14 PM