Because It's Saturday
...and I'm a little hungover, here's some stuff some friends are doing.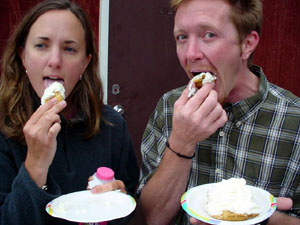 Jennie and Jay stuff their faces in Milwaukee
Jennie and Chris went to the Wisconsin State Fair.
I was supposed to be there, but I waited too long to get plane tickets (this isn't a quote, this is just me talking).
Jennifer ate a McGriddle:
One of the potential turnoffs for me was the idea that there were little paintballs full of syrup that would orgasmically erupt in a burst of maple spooge every time you took a bite.
Tom and Vivian are driving across the country:
...we see our share of gross, cylindrical children with a lot of Carl's, Jr. and Playstation and not very much of veggies and exercise.
Posted by jjwiseman at August 09, 2003 12:35 PM