Carl Junker and Friends
Carl Junker was a highly trained architect who went crazy and then spent the rest of his life working on a house for himself. He didn't just design and build the house, he also built the furniture (check out the chest above, with the body of Christ carved into the top) and decorated the whole thing.
Wild. It made me think of Louis Wain, who painted cats.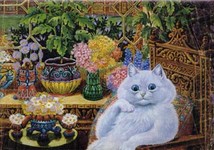 He kept painting cats as he became schizophrenic, and the progress of his illness was reflected in his art.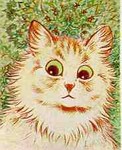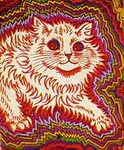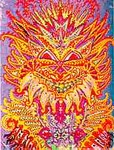 On the the "Neuroscience Art Gallery" site alongside Louis Wain's paintings are some details of a painting by a 25 year old schizophrenic artist. I love the feeling of this one: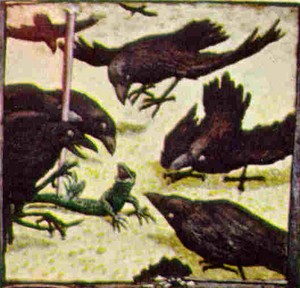 It reminds me a little of the final scene in Scarface.
A few years ago I visited the House on the Rock, near Madison, Wisconsin. I don't think the guy that built it was ever diagnosed with anything, but my god, the house is a testament to obsession. Walking into a huge, dark room containing the largest carousel in the world (none of the two or three hundred animals are horses) with deafening circus music, looking up and seeing hundreds of topless mannequins hanging from the ceiling, each with angel wings... it was a good simulation of craziness, anyway.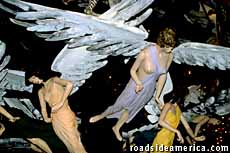 (The House on the Rock complex is immense, but it's hard to get a sense of the scale while you're walking through it. After we lost track of the hours, tired and very thirsty, unable to find any other people at all, we reluctantly broke into an abandoned slushee/hot dog concession shop and ate and drank until our skin turned the color of blue raspberry (which would be blue). You probably think I'm making this up, but I'm not.)
I still haven't been to see the Watts Towers.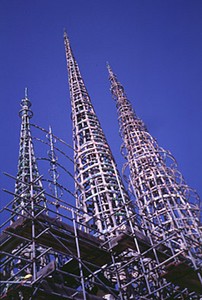 Posted by jjwiseman at October 05, 2003 12:51 PM