Opeth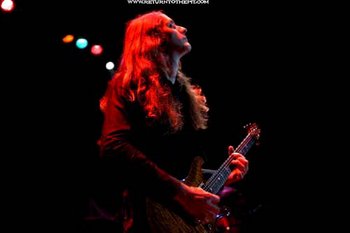 Thursday night Mark and I saw Opeth at the House of Blues in LA. Excellent show. More Swedish death metal, but they do this slow, beautiful sometimes acoustic stuff too. Often one song will go back and forth between slow, melodic singing and absolutely guttural roaring several times. I guess that makes them "progressive metal" (or "symphonic black metal", heh).
The House of Blues on Sunset has great sound. And the crowd again surprised me with its friendliness; one guy next us fell to the floor, intoxicated, and half a dozen people standing near helped him up and asked after him.
The car got some attention, too.
opeth / weakness / deliverance
Posted by jjwiseman at February 01, 2004 05:51 PM