Acclaim Enhanced
Max-Gerd Retzlaff has been hacking on Dan Barlow's PowerPoint-style presentation software, Acclaim. The new features include line wrapping and support for background images.
Here is an example of the little Acclaim language for describing presentations:

(configure
 :bg-image
           "Decker1024_1152x768_dark.pnm"
 :bg-color "black" ; "midnightblue"
 :fonts ((title :fontname "-misc-nasalization-medium-...-*-iso8859-1")
	 (pre :fontname
	      "-misc-nu sans mono demo-...-*-iso8859-1")
	 (smallpre 
	      :color "Beige")
	 (tt :fontname
	     "-misc-everson mono latin ...-*-iso8859-1")
	 (*default-fontname* :fontname
	   "-misc-traditionsansxlight-medium-...-*-iso8859-1")))
(slide
     (p "")
     (title (center "Warum Lisp toll ist"))
     (p (center " - oder - "))
     (p (center "schnelles und bequemes Entwickeln mit Lisp"))
     (p "")
     (p (center "Max-Gerd Retzlaff"))
     (p (center "(http://www.entropia.de/gpn3)"))
     (br)
     (image "bknr-banner.pnm" :x-align "center"))

And here's the resulting slide: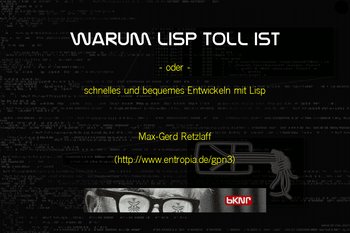 I recently came up with a PowerPoint presentation as part of "ERSP U", the training program that Evolution offers to people using our software.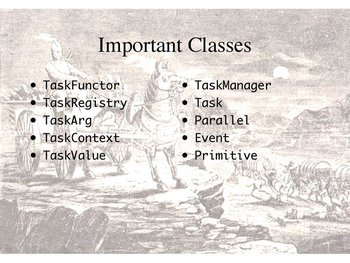 I bought Edward Tufte's PowerPoint essay hoping to find some ideas on how to create a presentation that wouldn't actually make students stupider by the very act of viewing it, and just generally not be so awful as to be worth a meticulous dissection in a Tufte essay. Unfortunately "The Cognitive Style of PowerPoint" offers more of an opportunity to feel superior if you haven't used PowerPoint than helpful advice if you want to use it.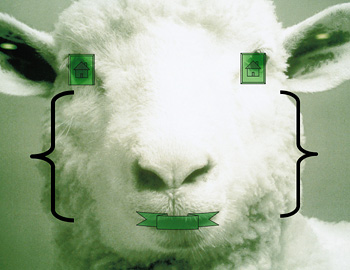 Doesn't Tufte understand we're past hating, and now it's time to co-opt? I do wonder what software designed from the start to discourage jaggy low-res bright-yellow-text-on-dark-blue-background presentations would look like.
Posted by jjwiseman at June 15, 2004 02:00 PM