Summer in Silverlake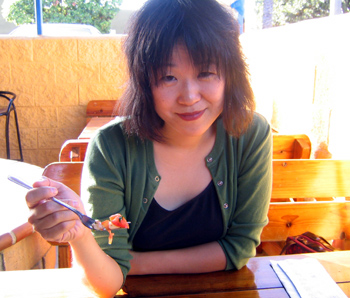 Dude. It's summer! And I can post a picture of Lori for no particular reason other than that I want to.
Yesterday, just before dusk, I walked over to one of my favorite neighborhood thai places to pick up some food. Walking in my hood, down the Sunset Blvd. past the music conservatory where Flea sometimes fills in for the receptionist, the tattoo shop, Tacos Delta, past the white guy with an afro sitting on a bench, white feather boa around his neck and big pink plastic sunglasses on his head saying "I swear on our love" into his cell phone, walking through patches of sweet magnolia scent (which I think smells like impossibly fresh tortillas), I thought
"I have so much happiness in me."
And it's true.
The girl who works at Suriyo is named Venus, and she recognizes my voice whenever I call and order my Suriyo rolls (this is probably a better thing to admit to than the fact that the girl who works at K.C. Donut gets my glazed old fashioned and medium coffee ready every morning without me having to say anything other than "hi, how are you today?"). Venus handed me my brown paper sack, and I got to walk home through it all again.
(Then I watched Repo Man, which sent me into some kind of LA love fugue state that may have led to a late night trip to Zankou and some cruising around on the east side, but I think you probably already have the gist, here.)
Posted by jjwiseman at June 18, 2004 07:12 PM