Hollywood Hell House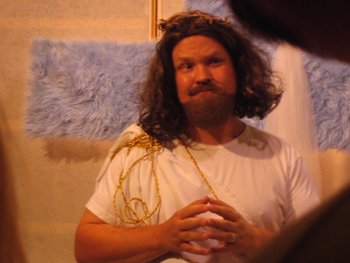 andy richter as jesus, photo by lori
We finally made it to the Hollywood Hell House. A tour doesn't even run 30 minutes, but it's lots of fun and easily worth $10. How much would you pay to have Penn Jillette, in costume as Lucifer, caress your cheek? The rest of it is just a bonus: getting a suicide's brains splattered across your face as she pulls the trigger, witnessing gang rape at a rave, watching one of those poor, misguided Jews getting ground into hamburger in Hell. And of course, spotting major and minor celebrities in thick makeup and prosthetics.
And while the tone isn't reverent, or even serious, the script is apparently followed pretty closely. It's just that it's already self-lampooning.
Joanne, as we walk out of Heaven: "Nice wedding ring, Jesus."
Jesus, muttering: "It's for the nuns."
The Wall Street Journal has coverage, as does the New York Times. And Lori has pictures.
Posted by jjwiseman at September 13, 2004 12:57 PM