Lisp and IM
Gordon Weakliem mentioned the idea of combining Lisp, instant messaging and natural language understanding.
Riaan has a post on natural language recognition over IM systems. I've been casually reading Peter Norvig's PAIP and it's occurred to me that this is one of those applications that Lisp is great at. I've even thought about trying to build an MSN Messenger front end for Norvig's ELIZA implementation as a proof of concept.
When I worked at I/NET, we did this.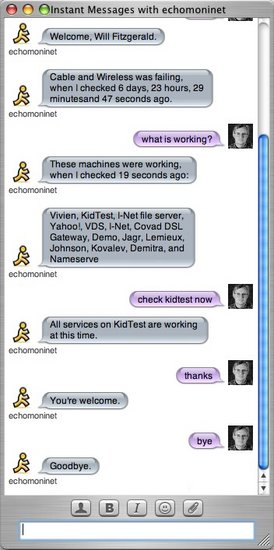 Echo screenshot, from Will's portfolio
Echo was a system monitoring tool that used natural language as its primary interface. Notifications, queries and even steps to be taken to try to solve problems were communicated in pretty natural English. Instant messaging was just another communications channel along with email, web forms and SMS text messages. You could even call up Echo on the phone and converse with it.
The natural language understanding engine was certainly the most complex part of the system, and was in fact written in Lisp (at least when I worked on it).
I'm confident there's plenty of interesting developments that will come out of IM as it evolves. I'm less sure that they'll involve natural language understanding, because I think that natural language interfaces that require people to type are only useful and appropriate in very narrow circumstances; in most contexts even a web form is probably superior.
Coincidentally, I recently took a little time to clean up the AIM client code that Echo used, which has been packaged as a project called CLAIM. CLAIM 1.1 works in OpenMCL, SBCL, LispWorks and ACL, and for your convenience is ASDF-INSTALLable.
Posted by jjwiseman at November 04, 2004 09:23 PM