2004 Roundup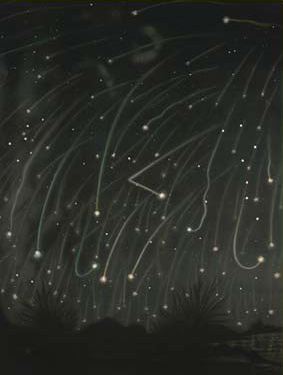 The November Meteors, E. L. Trouvelot
I lie. This roundup really only goes back a week at most.
But, Zach Beane is working on a list of the significant events of the Lisp world for 2004.
Successful Lisp is for sale at Amazon [via Lispmeister].
New QRIO sightings by Brian Mastenbrook.
Franz is offering a two-year non-commercial student license of ACL 7.0 enterprise edition for $99, and is planning on offering a 64 bit version of ACL 7.0 for OS X [via Rainer Joswig].
Rainer also mentions that Functional Developer, which was originally Harlequin DylanWorks, has been open sourced.
Bill Clementson uses AppleScript to get the LispWorks Personal Edition working with Slime.
And, finally, the big one: Edi Weitz announced RDNZL, which "enables Common Lisp applications to interact with .NET libraries". It works with LispWorks and ACL in Windows.
Posted by jjwiseman at December 21, 2004 12:14 AM