PM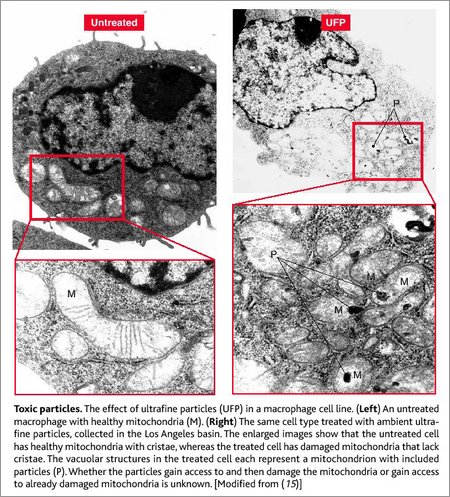 I'm a little freaked out about ultrafine particulate matter (PM) pollution. It seems like I've been reading more about it lately, and the increased risk of death (including "sudden death") associated with it. What's scary is despite the fact that there's a clear link between premature death and the levels of particulate pollution of a given city (with 50,000 deaths each year attributed to PM in the United States, and 500,000 deaths per year worldwide) the mechanisms involved aren't very well understood.
The particles in the photos above (i) are less than 0.1 μm in diameter, and hence unregulated by the government, (ii) are the major component in vehicle emissions and (iii) have gotten inside the mitochondria of the cells that are supposed to clean up foreign crap and are killing them. Additionally, my state of mind is not helped by the fact that these particular particles were collected in the LA basin--you know, where I live--and that this weekend's move has made even more obvious the incredible amounts of grime that float in from Sunset Blvd. and coat every surface of my apartment. Including, you know, my lungs.
Actually, lungs may not get the worst of it. It looks like PM can damage the nasal passages' ability to block foreign substances from entering the brain. In a study of 200 dogs living in Mexico City, investigators report "tracing metals associated with fossil fuel combustion—chiefly vanadium and nickel—from the dogs' nasal tissue, through the olfactory bulb, and into the frontal lobe and hippocampus of the animals' brains." Aieee.
Because such metals can foster damage by generating free radicals, Calderón-Garcidueñas looked for signs of brain changes in dogs living in areas with heavy particulate pollution.

Dogs often serve as a model for human age-related cognitive impairments. Some dogs at age 10 and older develop the waxy brain plaques characteristic of Alzheimer's disease. "In Mexico City," Calderón-Garcidueñas told Science News, "we are seeing [plaque] pathology in 11-month-old pups"—a dramatic acceleration in the development of the signature of Alzheimer's disease.

These data are "definitely worrisome," she says, especially in light of her preliminary findings of a similar breakdown in the nasal tissue of many people living in Mexico City.
LA has the worst 2.5 μm PM pollution in the country. And you're not going to find an air filter at Home Depot that can deal with that, let alone 0.1 μm particles.
Posted by jjwiseman at May 11, 2005 11:16 PM