Spectator Injured at NQE?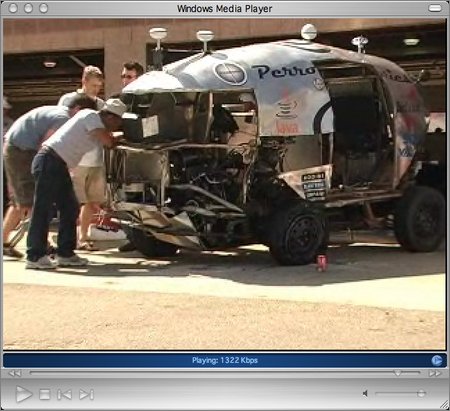 There was a bit of an accident yesterday at the DARPA Grand Challenge NQE.
By the way, the morning ended a few minutes early when Tommy, the silver egg-shaped vehicle from Team Jefferson, got through the tunnel and promptly sped up suprisingly fast, missed the next gate, veered left, and went across the finish straight-away (2 miles before it was supposed to be there) and crashed into a very solidly built concrete barrier wall moving it several feet. "Lunch Break!" Theories on the crash: The E-Stop requires time to operate. There was a mechanical failure that the E-Stop had no control over. And my personal theory: the DARPA chase vehicle made sure the vehicle was getting to the end of the tunnel, lost sight of the vehicle as DARPA started to drive around the tunnel, and couldn't react fast enough when they realized the vehicle was out of control. The high speed part only lasted about 3 seconds.
According to this daily video report from the Stanford team, a spectator was injured in the incident.
Please don't let TerraMax go rogue while I'm within range.
Posted by jjwiseman at October 04, 2005 10:50 AM