Wiki Spam Fighter
I mocked up an interface to a possible anti-wiki abuse tool.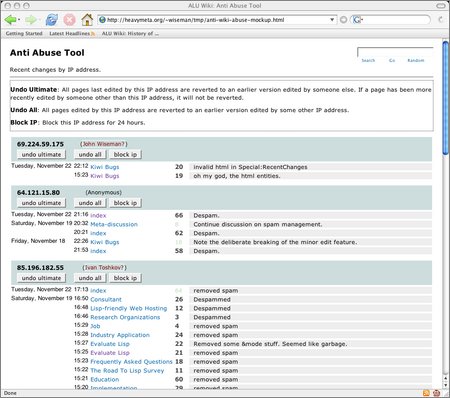 The idea was to make it easier to delete the kind of spam the ALU Wiki gets, which seems to be from a person using a single IP address, laboriously editing pages and satisfying captchas challenges.
There's some more discussion of the issues at the ALU Wiki Meta-discussion page.
I wanted to use logs of actual spamming efforts to make sure that grouping changes by IP address would in fact be useful, so I scraped the recent changes page. I decided to try Manuel Odendahl's html-match library to assist with the scraping, and despite it taking some time to figure out how to do what I wanted (there isn't much in the way of documentation, at least in English), it ended up saving me a lot of effort.

(html-match:html-pattern
    (html-match:+or ((:div :id "recentchangesdateheader") ?thing)
            ((:div :id "recentchangesblock") ?thing))
    (let ((day (day-p ?thing)))
      (if day
          (setf date-string day)
          (let ((change (parse-changes ?thing date-string)))
        (when change
          (push change changes))))))

I did find a few minor bugs in the Kiwi code running the ALU Wiki while working on this. Along with one inexcusable bug for a web-based application: incorrect HTML entity handling.
Posted by jjwiseman at November 23, 2005 06:54 PM