Historic UAV Landing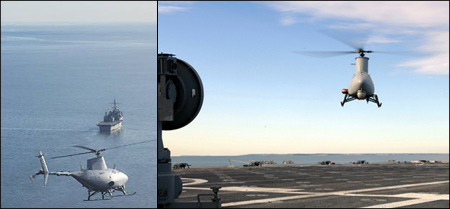 An RQ-8A Fire Scout rotor UAV landed on a moving Navy ship in what was apparently the first autonomous landing (as opposed to a net capture) of an unmanned aircraft on a ship.
On day one of the testing at 11:51 a.m., the green light was established as all systems were "go" on land and on sea. Under the command of the shore-based ground control station (GCS), the RQ-8A Fire Scout lifted off from the shore, and began its autonomous route to the ship. The shore-based GCS handed off control to the shipboard GCS, and after establishing telemetry data, a series of ever-closer approaches to the ship were conducted. In accordance with the test plan script, the RQ-8A Fire Scout came aboard the USS Nashville for the first autonomous landing at 2:42 p.m.
Posted by jjwiseman at January 19, 2006 01:52 PM