New York Times on Y Combinator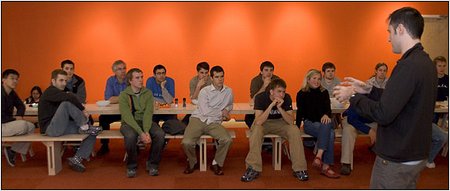 "Running a Hatchery for Replicant Hackers", the New York Times on Y Combinator:
"It's like Rob De Niro wants to start an acting school," Mr. Yuen said. "Do you want to join it? You get to work with him every week, you might even get a small little movie deal out of it at the end."

[...]

"Y Combinator comes down to two kids in a room with two computers and ramen noodles for a summer," said Chris Sacca, a principal of new business development at Google and a speaker at Y Combinator's one-day start-up school conference in October at Harvard. "It takes ambitious geeks and puts them in a situation with no distraction and expects audacious outcomes from them. The reason we like it is that that is what Google is." Indeed, Google has made acquisition overtures to one of the companies that was formed during the summer session, which the founders turned down.

[...]

Mr. Graham is more focused on creating cool products — that is, coding as art — than developing revenue models and protecting intellectual property. Thus, Y Combinator may not be as good at teaching participants how to build self-sustaining companies than it is preparing them to sell, or flip, their businesses. For Silicon Valley corporate war chests, acquisitions are often made for technical talent as well as product, which generally has to be rebuilt if it is kept at all. The whispered acquisition rate for companies is about $1 million to $2 million per technical employee.
Posted by jjwiseman at February 21, 2006 12:13 PM