Lisp Porn
lemonodor is pleased to announce its new revenue model.
Er wait, no. Actually Rainer Joswig was showing everyone in #lisp why people get excited (worked up, even) about MCL by posting a series of what he called "MCL porn", screen shots of slick-looking MCL applications. Bring on the lickable interfaces!
Here's Noteheads' Igor Engraver: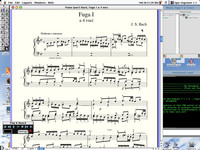 The MCL IDE, including editing windows, listeners, class browsers, the interface designer, and CLIM (and check out that cinema display!):
Making music with MCL: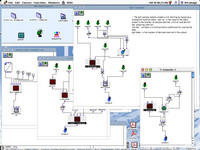 The original Dylan programming environment from Apple was an MCL application, as was Apple's SK8 multimedia programming environment (remember when Apple had an Advanced Technology Group?):
Then came something that made my week.
Rainer said "Here is the coolest lisp screenshot I have ever seen. It is a space shuttle simulator, with 3D graphics, speech recognition, and agent technology." And then he pasted a screenshot of the AERCam simulator that I worked on at Neodesic! He doesn't know me and he certainly didn't know I was on IRC; he must have grabbed that screenshot from an old site of mine years ago.
That was so cool.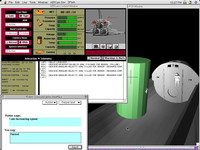 Here's my old, rudimentary AERCam page (please excuse the chunky graphics; it was 1997, after all). It was a cool system, and at i/net we're still working on the same underlying natural language/robotics control system, DPMA.
[All images courtesy Rainer Joswig; Thanks Rainer.]
Posted by jjwiseman at February 07, 2002 11:57 PM