!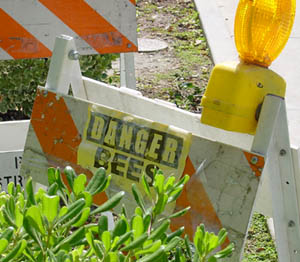 Pasadena has a lot of killer bees. I see signs like this one (near the entrance to my parking garage at work) all the time. Last week a big swarm was removed from a palm tree in a quiet residential neighborhood, and a few months ago students were trapped in a high school while public health officials removed a swarm that had landed on campus.
I have a bee phobia. Which puts my social insect score at Ants: fascination, Bees: irrational fear. Normal bees freak me out with their determination--they often want me or my food, and they don't give up easily. It's not the pain of stinging that scares me, it is their alien single-mindedness along with their irascibility (it doesn't help that it's backed by the threat of a painful sting). I've been stung lots of times, and it's not that bad. I just don't like the way they act (pretty clearly makes it a phobia, eh?)
The thing is that there are not a lot of normal bees here. Africanized bees started taking over southern california in 1999, and now 60% of the bees in this area are africanized. Yes, most bees here are killer bees. And they take determination to a new level. If you run, they will chase you for up to several hundred yards. And you should not jump in water if chased, because they will wait for you to surface.
I saw on the Discovery Channel that Los Angeles county has a special vector control department to handle killer bees. They'll come out in their truck and wearing their bee suits and destroy a hive, or remove one by wrapping it in a plastic bag and freezing it until the bees are dead, after which an exact analysis of the hive can be done by measuring wing sizes (africanized bees have slightly smaller wings) or doing DNA analysis.
So anyway, if I ever stop posting for more than two weeks, just assume the bees got me.
Posted by jjwiseman at June 27, 2002 12:23 AM