Dusty Deathbots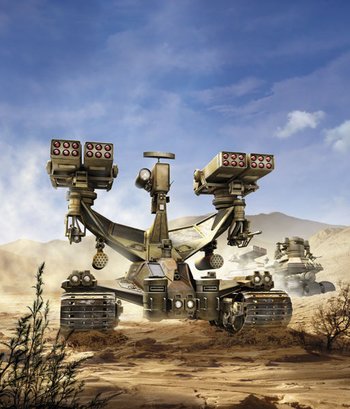 As March 13 approaches, coverage of DARPA's Grand Challenge race increases. This Popular Science article makes me think that working under Red Whittaker is probably not easy.
The illustration above certainly cuts to the chase as far as the point of the Grand Challenge is concerned (well, actually, I wonder whether the military would really rather have autonomous supply trucks before robot tanks). I know one person who quit a Grand Challenge team because she decided she wasn't comfortable with the fact that it is, after all, a military project.
Apparently the ETCon attendees who heard Helen Greiner, co-founder and president of iRobot, experienced some discomfort too, once it became clear that development of the Roomba was funded almost entirely by iRobot's military projects. Roomba may be cute and servile, and bleep-bloop in the dust found under your coffee table instead of in the deserts of the middle east, but its ancestors are built for war.
Posted by jjwiseman at February 16, 2004 04:41 PM