Almost 200 Applications for 2005 Grand Challenge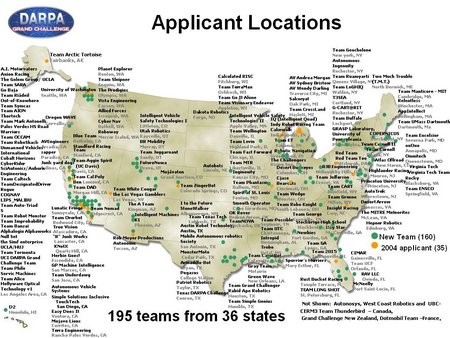 DARPA announced that it has received 195 applications to compete in this year's Grand Challenge, which has a $2 million prize.
DARPA Director Tony Tether expressed his delight at the large number of applicants. "When we first thought about the Grand Challenge in 2003, we genuinely believed only a handful or so of teams would be interested in competing," he said. "It takes ingenuity and perseverance to build a vehicle that can win the Grand Challenge prize. We were surprised when we received 106 applicants for the first Grand Challenge competition, which we held last year and no one won. The response to this year's Challenge is an even greater surprise."
Winnowing will occur after entrants provide vehicle specs and a video of their vehicle in action, which they must do by March 11.
I think the google ads that come up for a search on "darpa grand challenge" are kind of funny: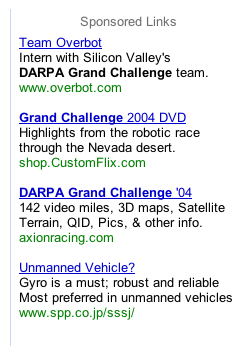 Posted by jjwiseman at February 26, 2005 06:31 PM