Lisp Attack: L, AUV, SemWeb, fm01, PCL and Dabblers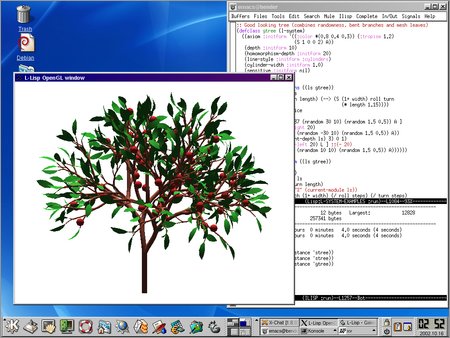 Knut Arild Erstad's L-Lisp is a framework for Lindenmayer systems. I wonder if I can find my old 2- and 3-D L-system code.
Franz and the Naval Postgraduate School (NPS) are considering offering a lisp-based course in physics for game developers. Email training@franz.com if you're interested. (I only know of the NPS in terms of its AUV work; AUVs are not UAVs, confusingly, but each term accurately describes what it really is).
Richard Newman continues to hack semantic web tools in Lisp.
fmo1 is a lisp-related project that, uh, "transposes non-metaphoric systems and grammar theory (of computer languages, abstraction and data containers) to the realm of expanded cinema". I think it creates video. These guys were hanging out at CLUI last year, but I missed meeting them.
Peter Siebel's book Practical Common Lisp has shipped, and is selling well despite being available on the web for free.
Maciej Ceglowski (remember his Bloom filter article?) continues his work in the growing field of Paul Graham backlash with "Dabblers and Blowhards": "I blame Eric Raymond and to a lesser extent Dave Winer for bringing this kind of schlock writing onto the Internet.".
Posted by jjwiseman at April 09, 2005 01:46 PM