Google Maps API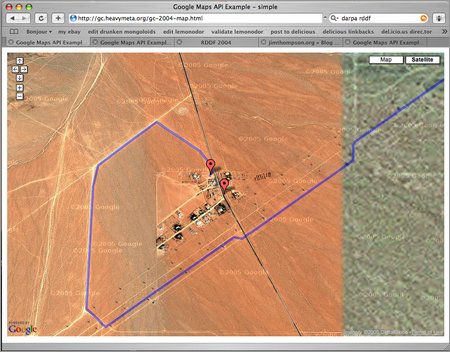 The new Google Maps API is really easy to use; I was able to create a map of the 2004 DARPA Grand Challenge route in about half an hour. After another hour or so I had some primitive clipping and adaptive level-of-detail working so that it didn't build the whole path of 2700 or so segments if you were just zoomed in on the Slash X cafe.
It wouldn't be much harder to add things like corridor widths or animations of the route. Or markers showing the maximum distance that each vehicle achieved (if that information were available).
Update: I couldn't help myself, I added markers at the final position of every vehicle that got out of the starting gate. The positions are roughly estimated from the Final DARPA report and some great circle distance calculations. If you click on a marker, you'll see the summary from the report regarding that particular vehicle.
Posted by jjwiseman at June 29, 2005 06:35 PM