Five Approaches to S-Expression Highlighting
paste.lisp.org's popular paste service for IRC users has fancy Javascript CSS to color code matching parentheses as you mouse over expressions. Unobtrusive, but not really all that helpful, either. B-.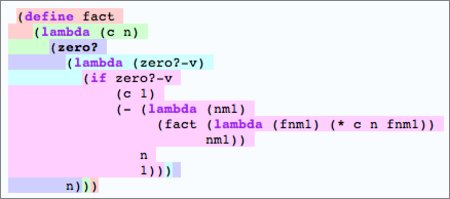 The Community-Scheme-Wiki has mouseover Javascript CSS magic, but highlights entire expressions (including whitespace). Helpful, but the coloring of the indenting whitespace looks weird. C.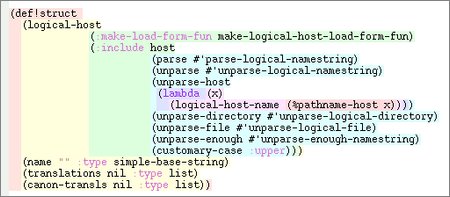 foom's emacs hack focuses on indentation. Clear and harmonious, B+.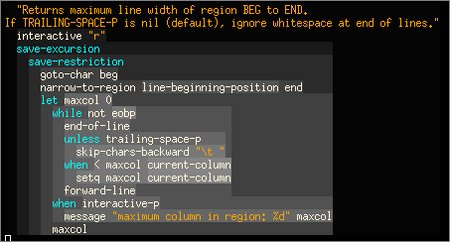 michaelw's emacs hack is a hybrid of indentation-based and nested boxes, and removes parens completely. Deleting parens is bold, but... too bold. And grayscale looks techy but cold. C+.

pkhuong's emacs hack is a rainbow of expression-coloring, minus the whitespace. Nice try, that changing the hue according to an expression's position in its parent expression thing, but in the end it is most valuable for what we learn from its failure. D.
(All examples culled from #lisp.)
(Nobody using pastel colors gets an A.)
Posted by jjwiseman at August 12, 2005 03:29 PM