Try Ruby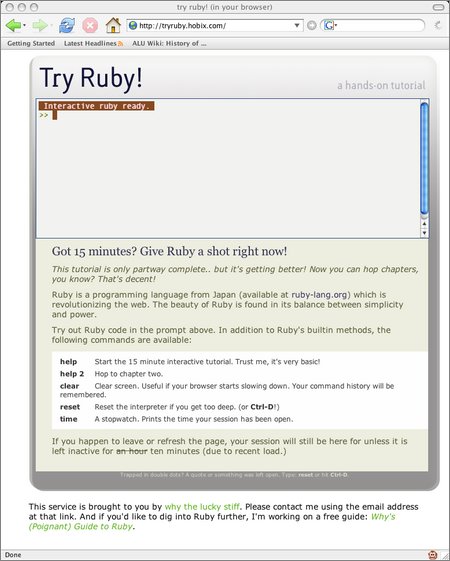 Why the lucky stiff has created a beautiful interactive ruby lesson [it doesn't work very well in Safari yet; try Firefox].
See his notes on what people try to do with it:

>> while true; puts 'Joe Junkpan' end


I love it. That's going to hurt you a lot more than it hurts me. Don't forget not to type Symbol.all_symbols.


>> format c:
>> cd c:\
>> delete c:\


Oh no, my MP3s! My Usher collection! NO!
David Cohen, who showed me the page, said
First of all, this is fun and cool.

Second of all, it gets people (ok, it got me) over the issue of getting around to doing it--the instant gratification works wonders.

Third, perhaps someone should set something like this up for Lisp?
It got me to play with it.
Posted by jjwiseman at November 30, 2005 08:30 PM