Large Desert Structures
Dessicating desert heat, blinding sun, a few margaritas and mental fatigue from viewing multiple very large things left me aching and exhausted, but the weekend's CLUI tour to the Mojave was the best one yet.
It feels counter-intuitive that a desert has such a rich selection of interesting man-made features. But I guess this is a desert with some history, having provided the landscape for aerospace pioneers since at least the 50s. We tooled around under lots of historic airspace, but we also visited some other locations that at first might seem more solid and earthbound, but which really turn out to be defined more by empty space than anything else.
The giant solar power plant is pretty insubstantial as power plants go. A million square feet of mirrors busy reflecting photons pouring down from the sky, completely silent other than an occasional hum as motors adjust the mirrors to track the sun. Over half the world's solar generated power comes from the area.
The U. S. Borax open pit mine is really just a big hole. A really big hole (or as Huell Houser would say "A really big hole!!"). With big, big trucks.
I have some pictures from the tour, and so does Lori, and so do some other people.
(I'm glad to finally be accomplishing the items on my to-do list.)
In other CLUI news, I was clicking around on Google Earth yesterday thinking man, I wish there was some way for me to overlay the Center's Land Use Database (LUDB) information on this thing. I got to the point of fantasizing about scraping the data myself when I noticed that someone at CLUI had already added this excellent feature themselves: earth.kml dynamically adds LUDB annotations to Google Earth.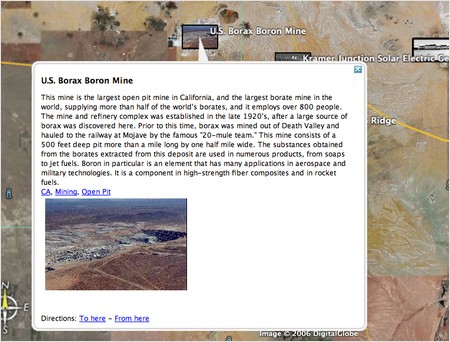 In other CLUI news, the new issue of their newsletter, "The Lay Of The Land" is available.
Posted by jjwiseman at June 27, 2006 11:22 AM