AERCam Gets Some Notice
Space.com's article "Robotic Assistants Could Have Helped Columbia" talks mostly about AERCam. (It also mentions the PSA--someday maybe I'll show you some concept art for a very special PSA variant).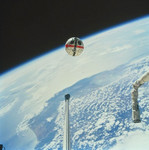 The article points out that inspecting the orbiter tiles isn't very helpful given that there is no on-orbit repair capability, though David Akin's idea of spraying emergency ablative material on tile gaps doesn't sound so far fetched.
Posted by jjwiseman at February 11, 2003 10:18 AM