Ex-Girl
A friend and I saw Ex-Girl a couple nights ago at Spaceland, which is walking distance from my apartment.
Actually we got there pretty late and only heard a couple songs and then the encore. But even though it was the end of the show, Ex-Girl was still full of energy and having a blast--bunny ears were flying like crazy. I bet when you're in a Japanese all-girl punk/pop band it's hard not to have a blast.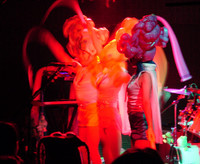 Though it should be said that spending the evening with a cute girl is a lot of fun, too.
Posted by jjwiseman at March 08, 2003 06:06 PM