The Gutter of Geek Marketing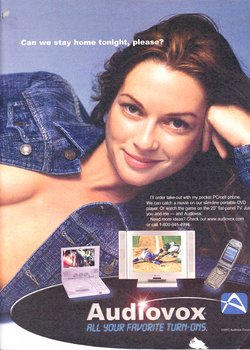 Robin Hunicke writes a little bit about women in geek advertising.
I actually find this sort of use of sex and portrayal of women in geek culture (or at least in the relevant geek subcultures: gaming, for example) to be very irritating, and one of the culture's least attractive qualities. It doesn't help that it's so ridiculously crude. I think the typical low rider magazine with ubiquitous bikini girls may be more subtle.
At last year's CES I was proud that the company I work for, Evolution, did not hire booth babes and didn't try to put female employees up front. Which was in stark contrast to much of the rest of the convention floor. (And E3 is on a whole other level of retardedness. Even the U.S. Army brought in some special forces for photo ops.)
Of course this isn't all that different from marketing tactics in other domains. I think what gets to me is that (i) it's particularly crude, (ii) it's in an area that usually prides itself on quality of content rather than presentation and (iii) there is a stereotype of geeks being salivating pimply losers hoping that a pretty girl will talk to them and you'd think that they might stay away from marketing images that tend to reinforce that idea.
Posted by jjwiseman at December 04, 2003 09:42 AM