MER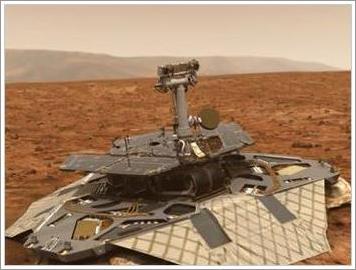 I was watching NASA TV last night as the MER got to Mars. When it hit the surface and started bouncing, and then NASA lost the signal from the lander and a few seconds later the NASA TV stream died, I thought that was going to be the end. I'm glad I was wrong.
Maas Digital has a pretty slick, but apparently relatively accurate animation covering the rover, from launch to creeping around the surface of Mars (if you have a serious interest, you'll want this torrent of the 320 MB DVD-quality version).
Susan Kitchens was at the Wild About Mars conference:
Chalres Elatchi:About that question what would you say to your congressman? I just got word from our web people in last 24 hours, 460 million hits. It's a world record, even more than Olympics... shows you how much interest there's been in this mission. And this is only weekend, wait till Monday when people get to work with high speed access.
Check out the 3D panorama taken today:

Posted by jjwiseman at January 05, 2004 09:47 PM