FannyPack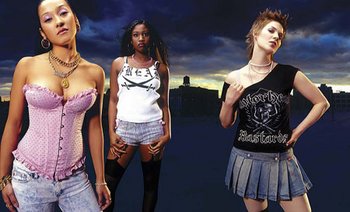 It's so six months ago, I'm sure, but squishy just infected me with FannyPack. They're totally fun.
fannypack / so stylistic
The origin of Fannypack, according to one of their co-producers in the MTV bio:
There was a guy selling belts for two dollars and he was snapping his belts making a beat and the girls were just standing there making up songs on the spot, singing along to this guy who was, uh, belt boxing. I was amazed so I hung out and listened for a while and they just kept coming up with these ridiculously simple and genius little dance hooks with only cheap, snapping leather as their musical accompaniment. I approached Jessibel and the rest is history.
Allmusic's version of the story is a little different.
Posted by jjwiseman at February 08, 2004 04:01 PM