Baby's first gold tooth initials inscribed S-E-X-X-Y
The day after I got back from Chicago I went to the dentist. A couple of my teeth had been bothering me for a few weeks, and it finally got so bad that I could no longer put off finding a dentist in LA.
What I thought was going to be just an exam turned into a three and a half hour procedure when Dr. Abe saw that I had a big crack in one of my molars. "This is like the old west, we're shooting first and asking questions later!" he said. I'm not so keen on the analogy's implications of reckless action, but I was really glad that he was concerned enough to fit me into the schedule right then and there.
Actually I was pretty freaked out, because an artifact in the x-ray film developing made it look like I had a GIANT cavity, and a couple other teeth have smaller cracks, so for a while they were talking root canal and two crowns. "Show him the root canal DVD, these Idealab people have analytical minds, they like to see that stuff." Yeah, I didn't even know what a root canal was, or a crown. I was pretty freaked out. Luckily, a second x-ray film developed by machine instead of by hand showed that the situation was better than we first thought.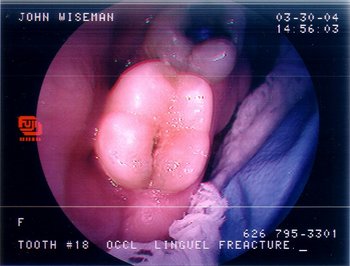 my tooth, with a little cavity and a big crack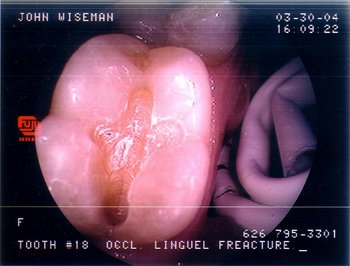 no more cavity, but the crack is deep
This entire post is an excuse to show these fun pictures. I'd never had a dentacam used on me before.
Having three cracked teeth seems kind of weird. A couple years ago I used to grind my teeth pretty badly at night, I think that probably has something to do with it. Dr. Abe said the big crack had been there for a while.
My gold tooth will be ready in two weeks.
Posted by jjwiseman at April 01, 2004 12:42 PM