Robotrices
I was googling for images of Robodex when I found someone's collection of Robodex booth babes. No robots, sadly.
These roboboothgirls seem a little washed out compared to, say, the girls from the 2003 Tokyo Auto Salon.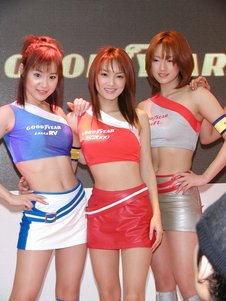 I have no theories about that.
P.S. I googled for "robotrices" and found a page mentioning the term in the context of "robot prostitutes" (well, actually it was "robots prostitutas"), which led to further googling. This turned up a rich collection of results, the first of which mentioned something about decaptitating robot prostitutes. At this point, the sexual politics of this post have become too complex even for my robot gigolo brain to keep track of and so I hand it over to you, as is, taut-bodied, mini-skirted and always smiling.
Posted by jjwiseman at August 23, 2004 11:02 PM