Richard Dawkins On Evolution and Creationism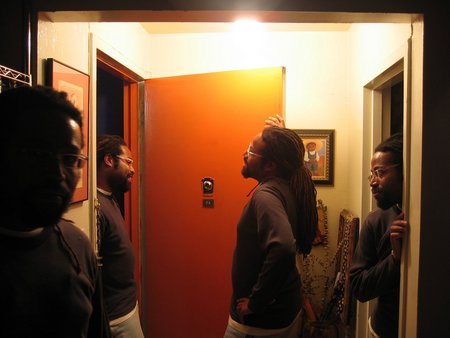 Richard Dawkins on the evolution of the eye:
Creationism has enduring appeal, and the reason is not far to seek. It is not, at least for most of the people I encounter, because of a commitment to the literal truth of Genesis or some other tribal origin story. Rather, it is that people discover for themselves the beauty and complexity of the living world and conclude that it "obviously" must have been designed. Those creationists who recognise that Darwinian evolution provides at least some sort of alternative to their scriptural theory often resort to a slightly more sophisticated objection. They deny the possibility of evolutionary intermediates. "X must have been designed by a Creator," people say, "because half an X would not work at all. All the parts of X must have been put together simultaneously; they could not have evolved gradually."

Thus the creationist's favourite question "What is the use of half an eye?" Actually, this is a lightweight question, a doddle to answer. Half an eye is just 1 per cent better than 49 per cent of an eye, which is already better than 48 per cent, and the difference is significant. A more ponderous show of weight seems to lie behind the inevitable supplementary: "Speaking as a physicist, I cannot believe that there has been enough time for an organ as complicated as the eye to have evolved from nothing. Do you really think there has been enough time?" Both questions stem from the Argument from Personal Incredulity. Audiences nevertheless appreciate an answer, and I have usually fallen back on the sheer magnitude of geological time.

It now appears that the shattering enormity of geological time is a steam hammer to crack a peanut. A recent study by a pair of Swedish scientists, Dan Nilson and Susanne Pelger, suggests that a ludicrously small fraction of that time would have been plenty. When one says "the" eye, by the way, one implicitly means the vertebrate eye, but serviceable image-forming eyes have evolved between 40 and 60 times, independently from scratch, in many different invertebrate groups. Among these 40-plus independent evolutions, at least nine distinct design principles have been discovered, including pinhole eyes, two kinds of camera-lens eyes, curved-reflector ("satellite dish") eyes, and several kinds of compound eyes. Nilsson and Pelger have concentrated on camera eyes with lenses, such as are well developed in vertebrates and octopuses.
Posted by jjwiseman at January 08, 2005 09:53 PM