UCAR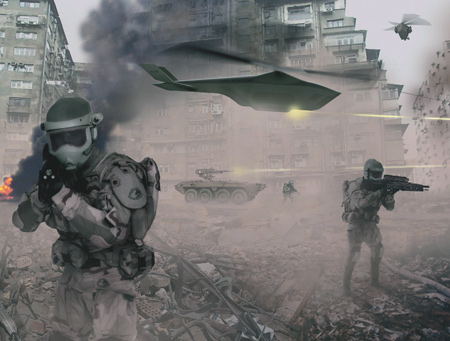 More helicopters with AI: The Unmanned Combat Armed Rotorcraft (UCAR) is an Army program to create teams of autonomous attack helicopters that work together and with human controllers.
What seems to be somewhat new here is the combination of a combat/attack mission, a high level of autonomy (as opposed to current drones like the Predator), and the focus on teamwork (this reminds me of some bots I wanted to code for a BattleTech mux, with member of a bot team cooperating with each other and with human-controlled mechs via natural language-based communication).
From an article in Flight International:
Left to their own devices, the UCARs will co-operate in the same way as manned aircraft, he says. "Manned aircraft overlap their sensors and weapons, cover each other and relay communications. A team of unmanned vehicles brings the same benefits," he adds.

According to Northrop Grumman, autonomy enables engagement options such as "protect self", in which the UCAR will avoid or engage threats to itself; "protect team", where it will engage threats to any UCAR and sacrifice itself to protect the manned aircraft; and "protect friendlies", in which the vehicle will engage threats to friendly forces.

The air mission commander - the copilot/gunner in the front seat of a Boeing AH-64D Apache in the Phase 2 simulations - interacts with the unmanned rotorcraft not as an individual but as a team. "The UCARs nominate a team lead to act as the focal point for interaction with the manned aircraft," says Woodbury. The team lead can change as the mission unfolds, as was demonstrated in Phase 2. "If an aircraft had to go back, it seamlessly passed the role to another."

Other members of the team take the lead in other functions, including interfacing with external information systems and making the data available to the team. UCARs will take information from the Multi-sensor Command and Control Aircraft (MC2A) or the Global Information Grid. "They can also push information back into the common operating picture, and that is powerful," says Greg Zwernemann, Northrop Grumman programme director.

[...]

Northrop Grumman's concept involves a platoon of up to six air vehicles: two scout UCARs flying at higher altitude to provide wide-area search and communications relay; and four attack UCARs flying at lower altitudes to identify and engage targets. "The scout UCAR looks ahead using SAR/MTI, while the attack UCAR uses EO/IR and ladar to target and execute using onboard weapons," Zwernemann says, adding: "The two scouts have different look angles and fuse the information to improve target identification." The UCARs are identical and interchangeable. "If an attack vehicle runs out of weapons, it can change roles with a scout vehicle."
I think this is amazing stuff. And inevitable. The main difficulty probably won't be in designing and implementing an architecture for this level of autonomy (even if it's not perfect, it will be adequate) but in coming up with sensor technologies and strategies for interpreting sensor inputs. You need enough confidence in your sensing that you're willing to let these things to decide, on their own, to attempt to kill something. And they, just like humans do now, will make mistakes and kill the wrong people. I'm sure the engineers writing the software are thinking about that possibility.
By the way, I'm totally conflicted here. Working on this sort of thing would be incredibly challenging and fun. But even though I don't think all military work is unethical, the morality here is still awfully complicated.
Update Jan. 5 2005: UCAR, which would have been "the most autonomous unmanned aircraft ever built", will not be built (anytime soon, at least). And it sounds like maybe DARPA isn't going to be as involved in the development of unmanned military systems as it has been.
Posted by jjwiseman at January 05, 2005 01:45 AM