Accelerating Change 2005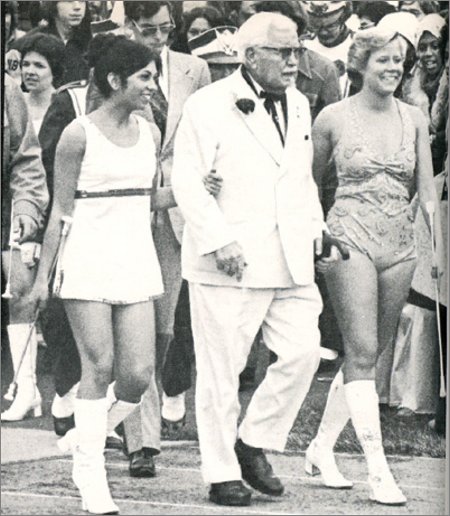 After an accident on the 5 delayed me a bit, I ended up driving straight to San Francisco to the location of the Rhythm Society celebration on Friday night. Nine thumpy, huggy hours later Eric and I then pretty much drove straight to the Stanford Campus in time to see Vernor Vinge rhapsodize about the coming day when humanity will wake up to find that the entire world has changed overnight, and that "sand now talks back to us", and we are doomed.
Overall, Accelerating Change 2005 didn't seem all that great to me. Seeing log chart after log chart showing exponential growth in the number of bits in the world, the number of internet hosts, the speed with which brains are imaged and the number of pies eaten per day got boring, and it didn't feel like new information to me.
There were maybe four things that stuck out.
1. Ray Kurzweil's charts of exponential growth and the predictions of dramatic change within our lifetime. That is, dramatically more dramatic change than the humans who lived before us experienced—things like being able to dump the entire contents of your brain into a big hard drive and reconstitute or analyze it usefully in some way later. Supposedly we're at the inflection point for all these curves.
If this is true then we are the luckiest (unluckiest) humans to have ever lived. This would be a very big coincidence that needs some explaining.
2. Ron Kaplan, the Director of Natural Language Research at PARC, predicted that we would see conversational interfaces that operated at the level of an eight-year-old human by 2010.
I actually felt angry during this presentation because he seemed so confident and yet didn't address the important issue that I think is a big obstacle to achieving his goal, which is that no matter how many exponential curves you have in your favor, doing the representation work for this stuff is very hard--nobody really knows how to do it (and he did mention representation would be required, so he isn't planning on doing Google-style mining). And if even if you create a representation for one or two or three small domains, like making travel reservations or querying the state of some system, nobody really knows how to combine those representations in a consistent way.
(This is a more specific version of my more general gripe with the Singularity idea: It doesn't matter how fast computers get or how fast we can scan a brain, we just don't know how to turn that into something that acts intelligently enough to take over the world and replace us.)
Or maybe this representation stuff is considered an almost-solved problem and I just don't know it. I know some people are certainly making some progress on it, at least.
None of the people in the conversational interfaces presentation even tried to address anything other than simple question answering systems, either. I want software that I can give instructions to and that can take action on its own.
And really, can you imagine trying to make a flight reservation with an eight-year-old at the other end of the phone line?
3. Rudy Rucker referred to the "millenial fever of the Singularitarians", which cracked me up. I love that guy.
I forgot what my original #4 was going to be, so here's 4A and 4B:
4A. Telling Eric my new Lisp idea, which I considered borderline-crackpot-level, and him crying "That's my idea!"
4B. Running into an Austrian Lisper at the conference (Manuel, what was your last name again?), who 1. recognized me, 2. pointed me at some ideas relevant to my crackpot idea from 4A and 3. asked if I had heard of a company called I/NET that's been doing some really neat things. Heard of it? Yeah, I was in the shit.
I just remembered what #4 was going to be: David Smith talked about Croquet, the Smalltalk-based 3D collaborative environment. It was pretty bad. I kept thinking that if they embedded Smalltalk into the Quake engine they would have started at a point much further than they've gotten after however long they've been working on it. Smith showed off features that online games have had for years, and he seemed to think they were really neat. The following presentation on Second Life must have been absolutely humiliating for the Croquet people (if it wasn't, it should have been). The Second Lifers showed off almost exactly the same things Croquet does, only it looked way better and had a nicer interface, and they have 50,000 users. pwned.
Posted by jjwiseman at September 20, 2005 06:45 PM