Section Quartet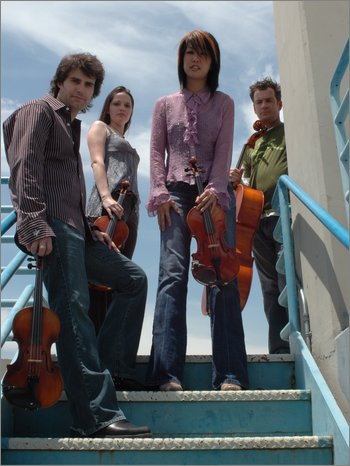 Last night I went to the Echo with Tom to see the Section Quartet do an all-strings version of Radiohead's entire OK Computer album. Somehow I hadn't been to the Echo before, and it reminded me of Chicago bars. I don't know why. But I liked it.
And I loved the Section Quartet—they were bowing and plucking furiously. It helps that OK Computer is my favorite Radiohead album, and seems particularly well-suited to the strings treatment. They've done other rock songs, too, but I think Radiohead just works better than, say, Queens of the Stone Age (which I love, but must always contain guitar).
I don't know exactly what the Section Quartet/Greg Dulli connection is, but they've played with him a bunch and Twilight Singers was playing on the sound system before they went on stage.
(Any mention of Radiohead covers is a good enough excuse to link yet again to Hard n' Phirm's Rodeohead.)
Tom was tipped off to the Section Quartet show when it was chosen as an Editor's Pick at HeyLetsGo (OK, the editor happened to be Lori), an event thingy started by another Evolution alumnus.
Posted by jjwiseman at October 07, 2005 11:22 AM