CMU Wins 2007 DARPA Urban Challenge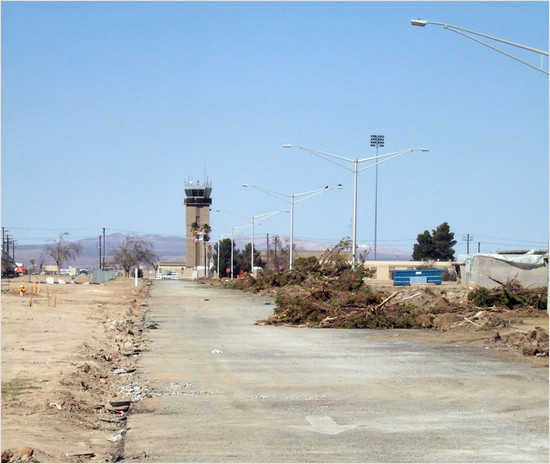 11 robot vehicles entered the course and 6 were able to finish. CMU came out on top while Stanford got second place—a reversal from 2005's Grand Challenge. Wikipedia has the complete race results.
I took pictures, and some video. So did everyone else. There's a torrent for the complete DARPA webcast, but the video was very glitchy for me.
Highlights:
The customer reviews of Victorville's hotels (e.g. "On this stay I was alarmed by the condition of my room and was concerned about the types of people that were loitering about the walkways. It seems this hotel is housing alot of displaced people, who seem to live there on a permanet basis: also alot of male truck drivers who watched us when we used the spa. This is not a hotel you would take your family to.").
Hardly any militaristic cheerleading from the race announcers.
Terra Max trying to plow through a building.
MIT's vehicle smashing into the Cornell bot.
The moment when several bots reached a 4-way stop at the same time, and everyone watching the video feed realizing that this could be the end of the race if the bots deadlocked, and then seeing the bots eventually work it out for themselves.
Commentary from MythBusters Jamie Hyneman and Grant Imahara, and overall a much better effort by DARPA to provide info during the race compared to previous years.
Being able to stand within a few feet of much of the course and practically feel the vehicles driving by.
DARPA's decision to give teams the list of GPS waypoints only 5 minutes before the race, compared to two hours in 2005. Some people felt that in 2005 CMU violated the spirit of the competition by having a dozen people process the waypoints into a final route for their vehicle.
This comment from a DARPA traffic vehicle driver: "...this was not a game of horseshoes, having participated today for more then seven hours with the bots as a traffic vehicle driver you get a real taste of the what ifs when you are face to face with a vehicle like Terramax, I had to take evasive action to keep from getting run over today."
Not as highlighty:
The Circle K I stopped in that had 2 working gas pumps out of 36, and a bathroom that made me think of a Francis Bacon painting.
DARPA's scoring process being pretty opaque—what scores did the teams get? And why? DARPA hasn't even revealed which vehicles got 5th and 6th place, as far as I know.
Overall the teams did better than I expected at handling the urban environment, with its lanes and curbs and moving obstacles.
Posted by jjwiseman at November 07, 2007 04:52 PM